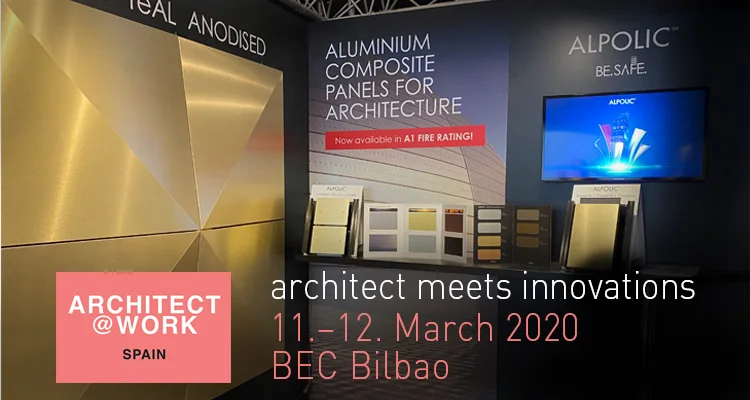 ALPOLIC™ at the ARCHITECT@WORK in Bilbao
The ARCHITECT@WORK invites you to Bilbao (Spain) from 11 to 12 March. At the trade fair for architects, renowned manufacturers in the industry will be presenting innovative solutions for modern and individual architecture for two days.
The trade exhibition is framed by a varied programme of seminars, as well as project and art exhibitions, which offer trade visitors the opportunity for an intensive exchange of experiences.
ALPOLICTM will inform at the exhibition event in Bilbao about the world's first aluminium composite panel ALPOLICTM A1, classified according to the European fire protection class "Euroclass A1" (DIN EN 13501-1). This represents a milestone in the history of aluminium composite materials as well as a sustainable alternative to façade materials made of full metal or other cladding materials for rear-ventilated façades. In addition, we will be showing inspiring solutions for exceptional façade design with real anodising at our stand.
Be there and visit us at the ARCHITECT@WORK in Bilbao at our booth no. 72. You can you can get a free ticket via
this link
. Please use the code: 32101 We are looking forward to two successful days at the fair and stimulating discussions with you.