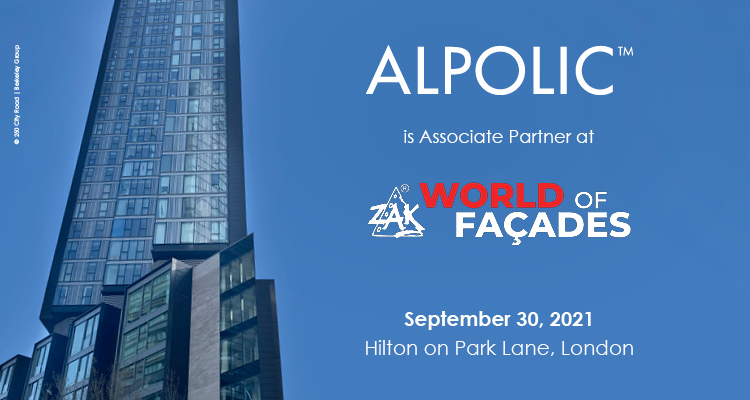 ALPOLIC™ is an associate partner at the international conference "Zak World of Façades" in London
The 79th edition of "Zak World of Façades" on 30 September 2021 at the Hilton on Park Lane, London, will provide you with a unique platform to network with developers, architects, façade engineers, contractors, specifiers and manufacturers. Find out about sustainable innovations and challenges in the construction industry related to the building envelope and learn about new technologies and solutions in façade design and construction. You can expect an exciting programme of top-class experts on all aspects of sustainable, safe and durable facades in almost 60 lectures and discussions.
Visit ALPOLICTM
ALPOLICTM is an associated partner at the "Zak World of Façades". As a manufacturer of high-quality aluminum composite panels, we will present our service portfolio as well as the new ACM ALPOLICTM A1 with A1 fire classification – a milestone in the history of ACM.
Register now and inform, network and inspire in September
Take advantage of this unique opportunity to learn how the latest techniques are shaping the future of safe and sustainable building façades. You can register to attend in person or experience the event via livestream. Thanks to adherence to hygiene standards and guidelines, a safe environment is also guaranteed on site. We look forward to your visit!
Click here to go directly to the online registration: