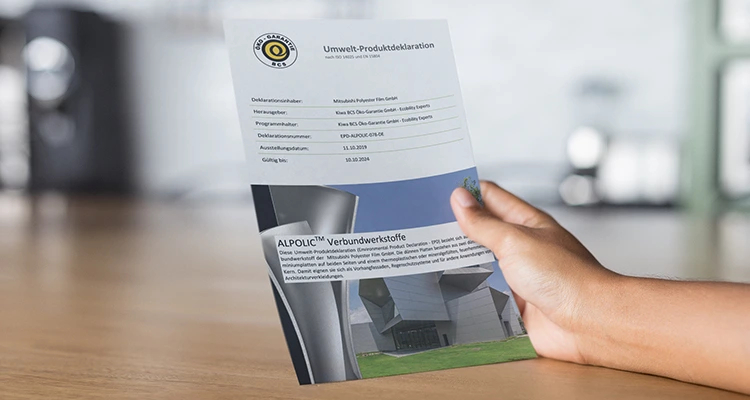 Positive ecological balance: ALPOLIC™ receives environmental product declaration (EPD) for aluminium composite panels
Sustainability is a fundamental part of ALPOLICTM's corporate philosophy. This includes careful and respectful handling of resources and production in accordance with the strictest safety and environmental regulations. In October 2019, the positive ecological balance for ALPOLICTM aluminium composite panels was certified in the form of an EPD (Environmental Product Declaration) by the accredited testing institute Kiwa BCS Öko-Garantie GmbH. This EPD documents the sustainability of the products from the cradle to the factory sector (cradle-to-gate) and serves as the basis for a sustainability assessment of buildings.

The environmental product declaration for the ALPOLICTM composite panels is a Type III declaration based on EN 15804 and ISO 14025. It contains all relevant information on the use of energy and resources and to what extent the products contribute to the greenhouse effect, acidification, eutrophication, destruction of the ozone layer and smog formation. In principle, environmental product declarations for aluminium construction products are developed as a transparent and detailed information basis according to international ISO standards. They are a necessary prerequisite for building certification and give building owners, architects and planners the opportunity to prove the sustainability of buildings at the planning stage. The assessment includes various parameters over the entire life cycle of the product, which are then presented in an internationally recognised assessment.

For the EPD, indicators such as water consumption, CO2 emissions and energy consumption were analysed. An average product from the product series ALPOLICTM A2, ALPOLICTM/fr and ALPOLICTM reAL Anodised was considered. The environmental effects were shown for the product with the highest raw density and verified by Kiwa BCS Öko-Garantie GmbH. Issued in October 2019, the EPD is valid for 5 years.

The EPD for the ALPOLIC™ composite panels can be downloaded here.