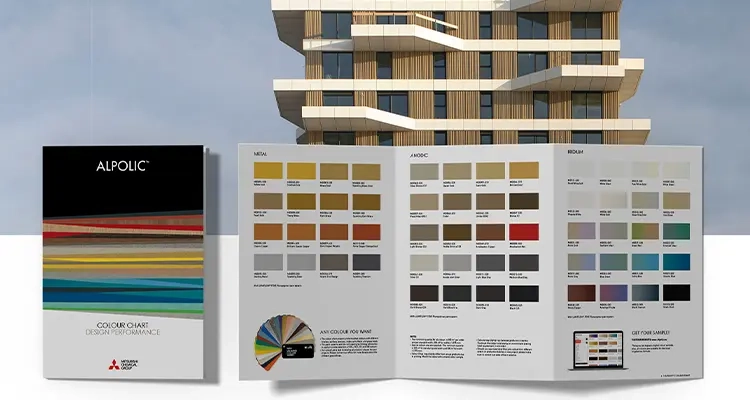 New Colour Chart: Design Performance for creative façade design
Colours play a central role in architecture, not only as a design element but also as an aesthetic experience. They serve as a statement that shows whether a building is harmoniously embedded in the surrounding landscape or has been deliberately set as a contrast. The colour scheme is thus an integral part of the creative concept and is particularly important for the façade, as the calling card of a building, in order to implement the visionary ideas of the architect.
In order to offer architects and planners an even wider choice of exclusive colours for façade design, we have developed a new colour chart with seven design collections and a total of 124 high-quality colours and surfaces for our aluminium composite panels. The palette ranges from classic and subtle shades to creative surfaces. The diverse selection of colours allows architects to make their façade design even more individual and unique and give the building a distinctive look.
7 design collections for every style
Whether you're going for industrial design, a classic look or natural design, our 7 design collections offer you the perfect solution to give your building façade the effect you want.
Our metallic colours give your façade a modern and sophisticated look, while our classic solid colours are timeless and elegant. For a particularly appealing look, we also offer a variety of effect colours that give your façade an individual appearance. For a natural and organic look, you can choose from textured surfaces in natural, anodised, stone or wood look. By using different gloss levels, you can also achieve effective effects through light reflections and make your façade shine.
You can download the new colour chart
here!